In the first article 'Everything you should know about the fundamentals of BIM Technology' (link) we described the theoretical issues and fundamentals of BIM technology in construction. In this article we will focus on the answering questions: Why? Why did BIM revolutionize the construction industry? Why is this the path all companies will follow in the future? To answer these and other questions, we have prepared a list of the most frequent comments and questions from BIM-skeptics. We attempted to answer them in a simple way by presenting all the benefits of BIM technology use. 
Or maybe these are BIM-skeptics who are right? Find out for yourself!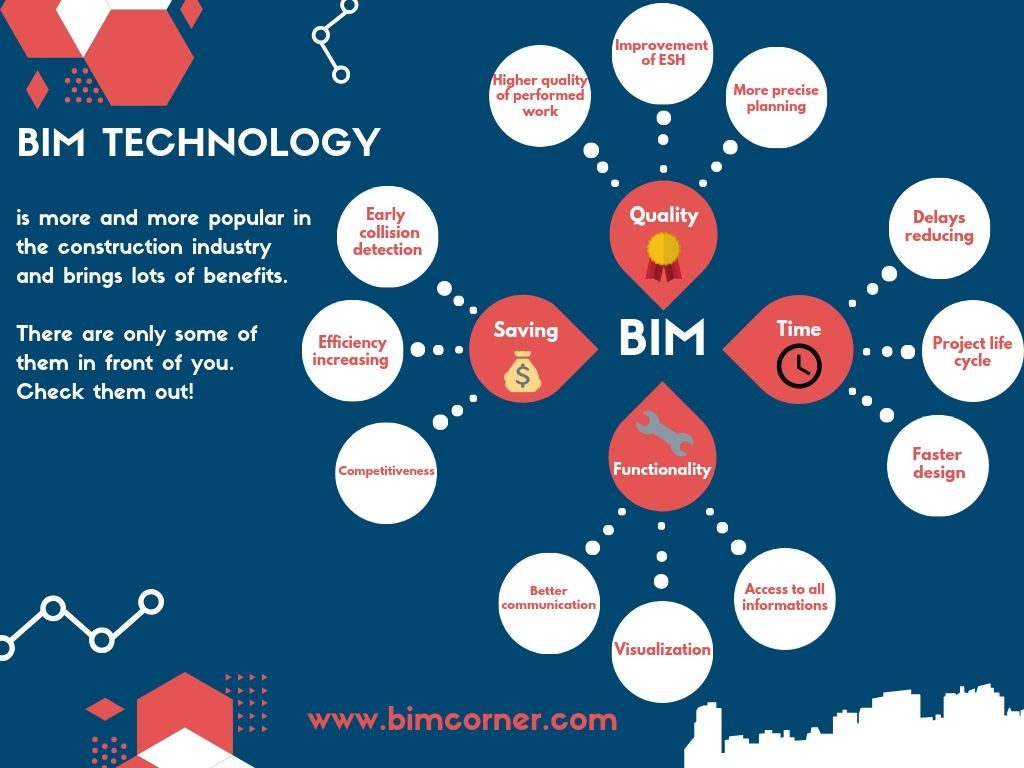 Benefits of applying BIM technology
Benefits of BIM technology
Benefit 1: Early detection of a collision
The model will never be 100% true to reality – you can model something perfectly, but the construction conditions will, of course, verify everything. However, using BIM still pays off! Even if you detect at least some of the mistakes in the model at an early stage, you will simply avoid them on the construction site. Because the BIM tools helps you automate the collision detection of elements such as electrical cables, sewer pipes or ventilation ducts. Simply put, you can turn on a 'checker' to automatically verify collisions and make report. This will save time instead of manually checking drawings from different industries, won't it? Every discipline can link own models to one common where conflicts will be detected at an early stage where the cost of changes is much lower. It's always better than standing in a two-meter excavation, in the rain, when lunch starts in five minutes, you haven't checked your Facebook for an hour, and you just detected a sewer pipe going through a concrete wall.
Benefit 2: Faster design and construction
Twice as fast it sounds tempting. But remember the times of blueprints? (or maybe you're too young and you've always used CAD?) Most people at that time also thought that the new huge computers were too slow, too expensive and too complicated to operate. But times are changing and design geometries are getting more and more complicated. Architects and  designers are competing in new ideas to make objects unique so that they are distinguished from the crowd.
At the same time, they want to make them faster and cheaper. Making 2D drawings may be faster than the model, but you won't be able to make modifications so quickly. With a parametric design which becoming more popular in the industry, we are now able to make rapid changes to the model. Thanks to the accessible change of input data (spacing, width, length), the effects of modification are visible immediately after the relevant values are changed.
Will you make the drawings of such construction as below twice as fast? And what if the columns and supports change their position – how long will it take to modify the whole documentation?
Benefit 3: More precise planning
ou can indeed do miracles in Excel. However, the BIM technology is not intended to replace a spreadsheet, but only to streamline and automate the collection of information from the model. Simply put, we replace tedious and often flawed manual work (e.g. "tapping" into tables of values) with automated data generation. 
Here are some examples of how BIM technology supports us in our daily work:
Download BIM CASE STUDIES:
After reading this guide you will learn:
How BIM is used on the biggest projects in Norway
What were the challenges for the design team and how were they solved
What were the challenges on the construction site and what was our approach to them