AEC industy is currently producing an enormous amount of data that project managers may struggle to understand. The data collected in BIM models are worthless if we cannot understand and utilize it properly.
Data visualization can aid us in this endeavor.
A few weeks ago, I organized a live webinar titled "Automation and Data Visualization on a $1.1B Project." My guest was Nicolas Døssland, a BIM Specialist from C3BIM company.
Nicolas demonstrated how to leverage the power of data using PowerBI to make it more accessible and understandable for the rest of the project team.
Do you want to see RECORDING from this webinar and get special GIFTS for FREE?
Just sign up in the form below, and I will send you the mail with a link to the webinar recording and…
In order to visualize data, it must first be gathered in one place.
During the presentation, Nicolas provided an example of using IFC models.
To begin, he combined the models into one federated model using the Solibri program.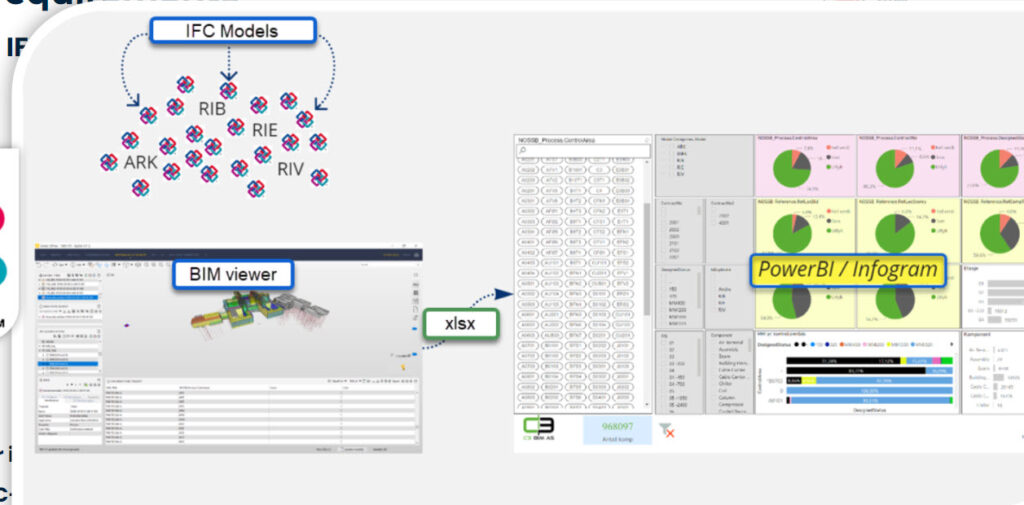 It can be presented schematically in this way:

Then, using data from the models, we create an Information Takeoff in Solibri. Thanks to this tool, we are able to generate data reports in Excel format.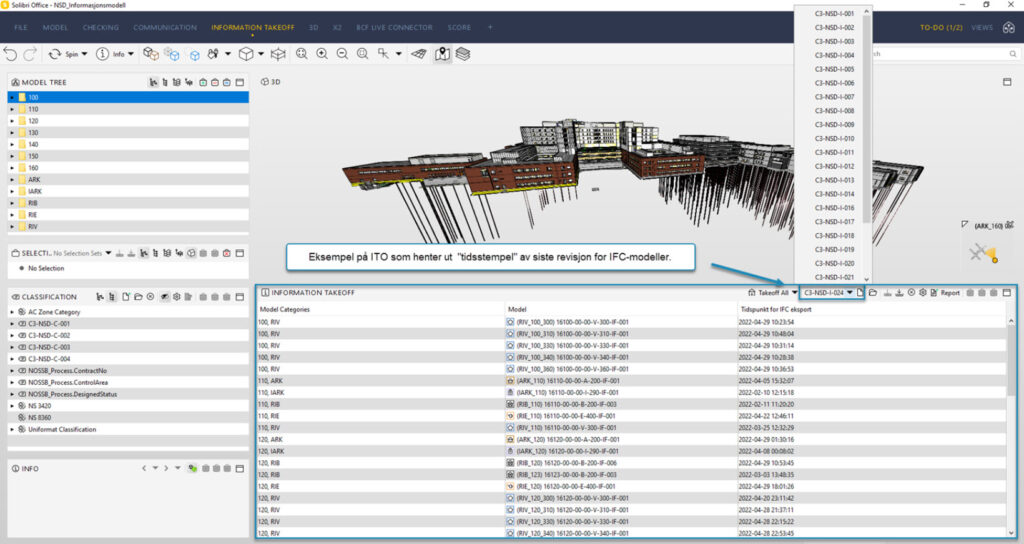 Our model data is now presented in an organized manner on a spreadsheet.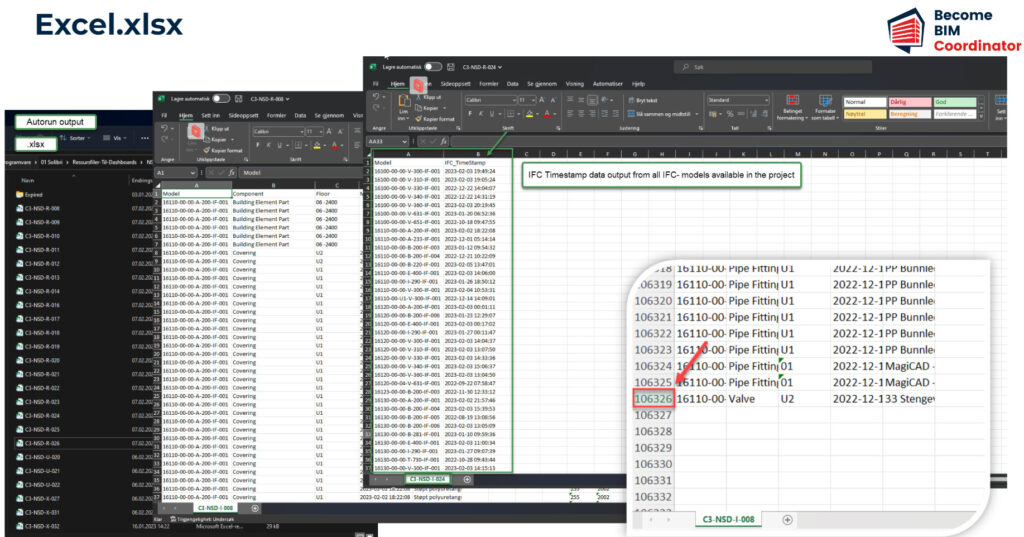 All the data we collect will be visualized in Power BI. However, IFC models do not always have all the necessary data that we want to show in Power BI. This is why we can use other data sources.
During the presentation, Nicolas demonstrated how they used data from dRofus and BIMcollab applications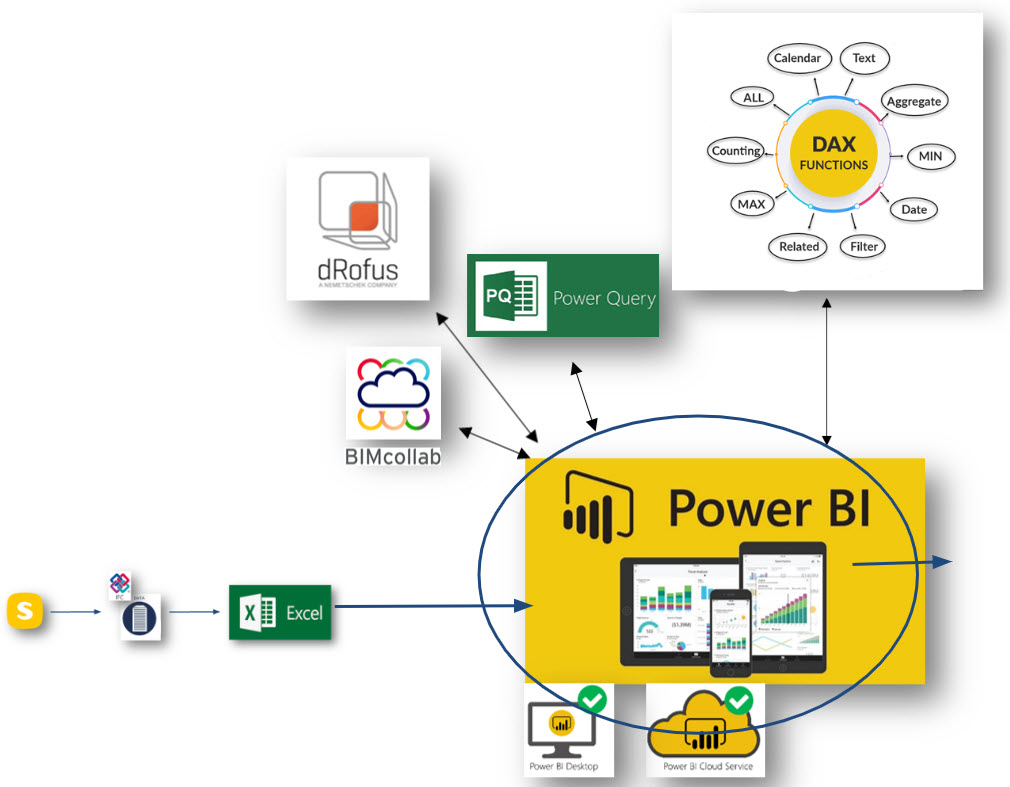 Visualization of BIM data in PowerBI
Once all data is gathered from various sources, we can use the PowerBI tool to present it in various diagrams.

Here is a simple example of how we can use diagrams to display the MMI status of each model element. (For more information about MMI, click here.)
Shaping our data in PowerBI - PowerQuery
After gathering data from various sources in PowerBI, it is important to structure it in a meaningful way. This can be accomplished using special functions in PowerBI called PowerQuery.
PowerQuery provides the flexibility to connect PowerBI to many different data sources and transform the data as needed. Nicolas uses this tool as an addition to PowerBI and other functions.
PowerQuery can also combine multiple tables into one, making it easier to model the data and create a strong foundation for visualizing graphs and statistics in PowerBI.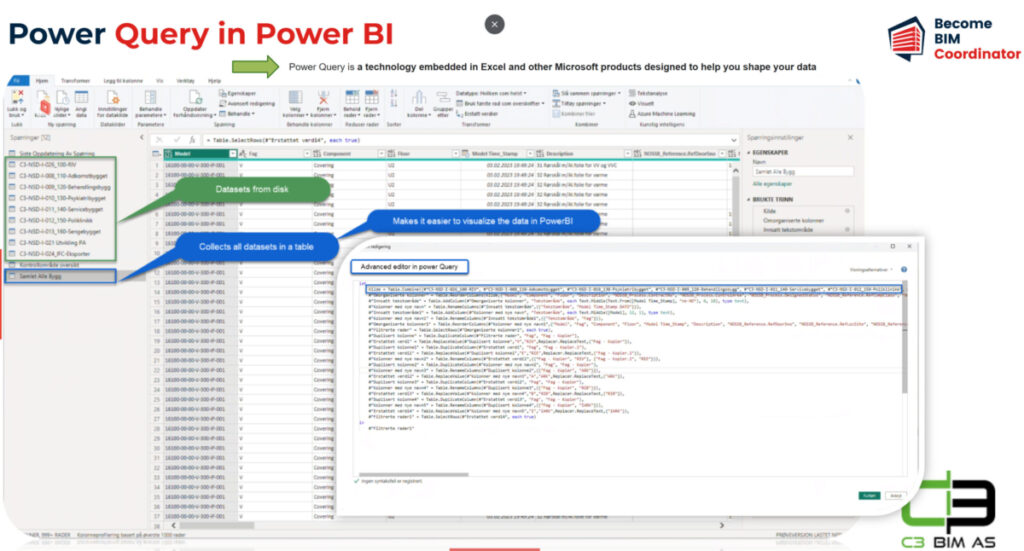 PowerQuery is an essential tool for any BIM professional who wants to leverage the value of model data.
Shaping our data in PowerBI - DAX
Nicolas and the team at C3BIM are also utilizing Data Analysis Expressions (DAX) to improve statistics and visualization in Power BI. DAX is a formula expression language that can optimize data analysis.
DAX is a crucial component for most calculations in Power BI. It includes functions, operators, and values that enable formula-based data shaping, which was not possible before.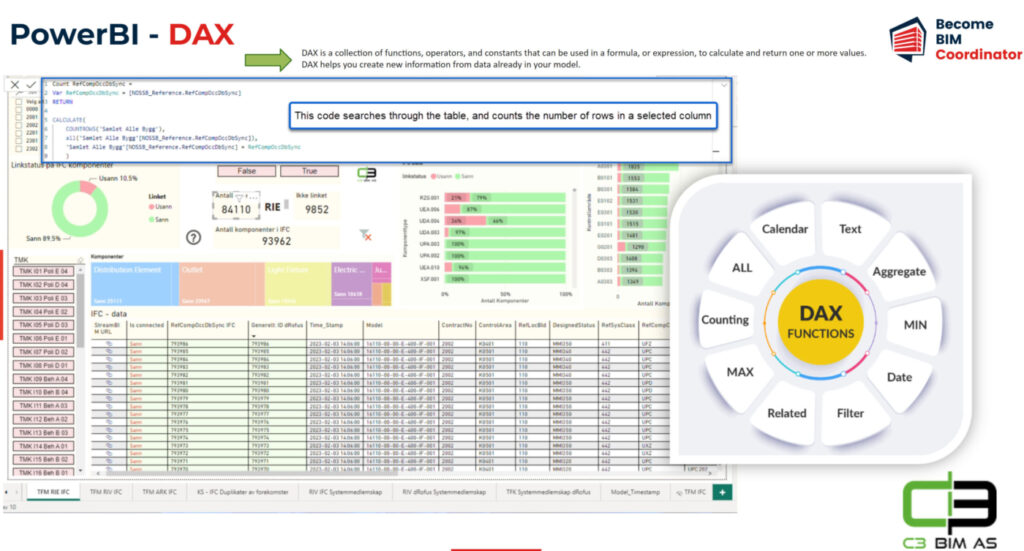 During the session, Nicolas showed a few live examples of how he is using IFC model data in PowerBI.
One example that I think deserves special attention is when we combine data from Power BI with the StreamBIM viewer. You can find a short demo below.
To see the full live demo and learn more about data visualization on BIM projects, watch the webinar with Nicolas.
You can access the recording and additional materials by clicking the button below and submitting your email.
Do you want to see RECORDING from this webinar and get special GIFTS for FREE?
Just sign up in the form below, and I will send you the mail with a link to the webinar recording and…