In the BIM environment, there is a lot of talk about the important roles such as BIM coordinator or BIM manager, but unfortunately relatively little about the functions that precede these roles. Is it possible to implement BIM in your workplace as a novice engineer? How to do it, even if the company does not have a specialized department in this area? In the following text, I will share my experience with you and show you how I found the answers to the above questions. I invite you to read!
I started my first serious job after graduating from my master's studies, with little experience aside from a six-month internship in an architectural office and a fresh Autodesk Revit Advanced certificate under my arm. I admit that I was fortunate enough to come under the wing of talented designers who gave me a lot of trust. In retrospect, I can see that it was crucial to the pace at which I began to develop skills and interests. A lot of challenges, but also a lot of repetitive activities made me look for new and better solutions, often after work, at home. At that time, improving my competences and becoming a specialist in my field was a priority for me.
Don't wait for your boss to put a BIM textbook on your desk
I still remember the moment when I thought "Oh, I'm going into this BIM, I don't know how yet, but I'm going", that moment was a conversation with a friend sitting at the desk next to me, who was talking about her BIM postgraduate studies in Poznań. And so, two years later, I was a participant in the iBIM postgraduate program at the Warsaw University of Technology, and now I work as a BIM Coordinator and Architect. Did I think it was worth finishing these studies? Of course! Is it necessary to deal with BIM? Of course not, but more on that in the following paragraphs.
I am a young architect, so is BIM for me?
And why not? BIM is, among other things, a database about the building, and who is an architect if not the person responsible for collecting, selecting and organizing this information? It can be said that, in a nutshell, the BIM model is a geometric model armed with information contained in the technical description and 2D documentation. Regardless of whether you choose to follow the path of a visionary architect, master of architectural details, modeler or project manager, knowing this methodology will be useful and competitive.
Where to start working with BIM?
There's nothing magic about it. If you are starting your architectural (though not only) career, you will need to choose software (usually Archicad or Revit) and simply learn to use it fluently. A basic course, not necessarily paid, and exercises (for example, creating full construction documentation based on a student project) will be useful. Working on a living organism always brings the fastest results and forces you to look for answers to specific questions (instead of "How do I learn to model in Revit?" you ask "How to automatically attach walls to the roof?" or "How to create a surface specification?").
Step number two - parameters
The next, and at the same time the most important, issue is working with the parameters of the model. Having the skills to create building geometry, we can start to saturate the model with information. However, be careful not to overfill it. Of course, everything depends on the requirements imposed by the client, but if there are no such requirements, and in principle the project itself is not referred to as BIM, then the type identifier, material and fire resistance will be enough to start with. A coherent model with less data entered correctly will be much more valuable than one that may look professional at first glance, but will be full of unnecessary or, worse, incorrect information. It's really not worth making an exact replica of reality right away, because later it's hard to work with such a file.
BEPs, EIRs and other abbreviations
If you dive in the BIM-world and your hunger for knowledge grows, or you are simply forced by the situation on the current project, the time will come to look for answers to what exactly these BEPs and EIRs are, what CDE is for and whether IFC is really so super extra. The multitude of shortcuts is overwhelming at first, but I promise the further into the forest… the more of them! Fortunately, after a while, they stop being so scary and you get used to it. But where to look for these answers? At the beginning, I recommend choosing one book yourself, basically any, not too thick, from the "BIM for beginners" series. Thanks to this, it will be easier to orient yourself in the subject and have a kind of compendium of basic knowledge at hand. And going further, there are plenty of articles discussing specific concepts and stages of the design process in BIM, e.g. here at BIM Corner.
Are BIM studies necessary?
As I mentioned at the beginning – the anwser is no. Postgraduate studies in BIM are a really interesting and valuable experience, but they are not a necessity. They organize the already possessed knowledge and indicate many necessary and interesting issues, and most importantly, they allow the participants to exchange experiences. You can choose from many programs offered by both Polish and foreign universities, as well as various types of courses and training. It is also a good idea to participate in BIM conferences, which are held in Poland several times a year by various organizations and associations.
How to develop BIM in a company as an assistant?
Two years passed from my first job to postgraduate studies, so what have I been doing in the meantime? Having a very general knowledge of BIM, taken from books and YouTube videos, I knew that I needed practice. After all, every BIM specialist started somewhere and no one (or at least no one I know of) woke up one morning with a full arsenal of BIM competences. I decided to maximize my productivity as an assistant so that I could develop the BIM standard of work in the office in the remaining time. Knowing how much time I have to complete a given task, I could plan my work so that selected parts were done as quickly as possible (of course without losing quality – internet forums and previously developed methods came in handy here), and the rest I used a more time-consuming method (e.g. scripts in Dynamo), which will improve the work on subsequent projects and increase the quality of the prepared models. Thanks to such a system of work, I became the person who asked questions and who gave answers. At that time, I acted a bit in the dark and, of course, there were mistakes (I still remember how to fill in the parameters of the door with the DiRoots plugin, due to a small mistake in Excel, all doors instead of RAL7021 had colors: RAL7022, RAL7023, RAL7024 etc.). I admit, I don't like to be wrong either, but I quickly put my pride in my pocket and exchanged it for inquisitiveness, because everyone can be wrong, but not everyone draws conclusions from mistakes. Among other things, based on this collection of my conclusions, I will present below some suggestions for activities that can help introduce BIM (in a more or less advanced form) to the workplace from the position of an architect's assistant. It is obvious that some or even all of the points I have mentioned may already be implemented in the company as a standard, but knowing what is important and what to ask your colleagues about can be quite useful.
BIM implementation - practical tips
Create a list of model elements to standardize, such as walls, doors, windows, section and elevation symbols, etc.
*Such a list can be made in a spreadsheet or text file, it is worth noting the most important features that individual elements should have (e.g. "three types of windows, depending on the division" or "brick walls at the construction design stage have a specific slot on the projections and sections").
Determine a set of descriptive elements, such as types of text, links, etc. necessary for issuing documentation.
Prepare of a list of basic parameters that will be used in the model and which should be filled in on an ongoing basis.
*Here I assume that the model does not have guidelines regarding the information contained in it.
Create checklists to help you control the information in your model.
Create a list (or draft list) of drawings to be documented with the designer to create and code sheets early in the project.
Take an initiative to conduct regular audits of the model and jointly decide what should stay in it and what is unnecessary.
Determine the division of roles and responsibilities in our project, if there is no such scheme, you can take the initiative to create it.
Regularly exporting the file to the .ifc format and verifying the correctness of our model both in terms of geometry and information contained in it.
Create parameter sets for .ifc export
Create your own building equipment families for Revit
*I encourage you to initially focus on the overall dimensions of the piece, aiming for a LOD 100 level of detail on the entire model.
Regardless of whether the company uses producer families (which I do not recommend due to the size of their files) or not, you can take the initiative to create a separate library file where we will place all the useful elements. From there, you can copy them to individual models.
If after reading this text you google "what is BEP?" I consider that I have done a very good job. BIM is still evolving and shows no signs of stopping. It doesn't matter what modeling software you choose, because it's really just a program, and any program can be learned. It is also not important whether you decide to take up, for example, postgraduate studies or not, because this way of education has no end (yet) and there will always be something that may surprise you. What is important is enthusiasm, determination and passion for implementing ideas. Because in a difficult moment, these factors will affect whether you throw the keyboard on the floor screaming that it can't be done, or take a deep breath and launch the search engine on BIM Corner.
Look around and verify what kind of people you have next to you. They will involuntarily shape you by awakening or extinguishing your passions. Knowing this, you can let them do it or not. A supportive environment is a key factor for effective development, so take care of it first.
P.S. If you are looking for answers to difficult BIM questions, please contact me on LinkedIn – we will look for them together.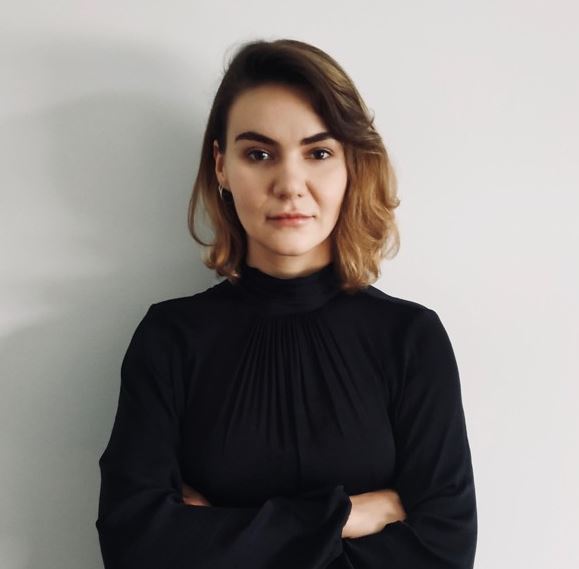 Adriana Kurek
Author of the article
Adriana works as an Architect and BIM coordinator at Graph'it in Warsaw. She has just become a new member of buildingSMART Polska. She studied at the Faculty of Architecture at the Poznań and Silesian Universities of Technology, and before taking up her current position, she worked in her hometown of Bydgoszcz. BIM passion prompted her to complete iBIM postgraduate studies at the Warsaw University of Technology and although she changes places of residence like gloves, she has not parted with Revit since 2017. A fan of new technologies, who, as she says: "has more ideas than skills".